Hi! I'm Girl Awesome, friends with Narloh. We met at homeschool co-op and became friends. I like building forts, worlds in Minecraft and playing video games with them.
I started a YouTube channel based on unboxing toys. Sometimes when I had new toy to unbox, we had to wait a day or two until we could make a video about unboxing that item. That made me feel impatient to have to wait days so I can just open a toy. I thought it might seem boring to watch someone open a toy. So I went on to film how to do basic RainbowLoom bracelets. My view rate was 2-5 views per video. My big success was when I unboxed a new RainbowLoom loom which got 115 views.
I decided to do some taekwondo videos for white belts. Then I realized I wanted to read some stories to kids that I wrote during the Covid-19 "stay at home" time because we can't go to the library to get some books. When I did 2 read aloud stories, it made me feel a lot better about doing more videos on YouTube.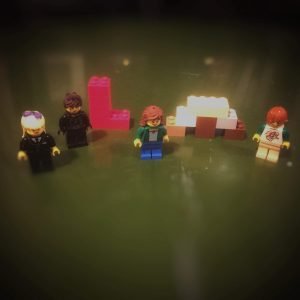 I also did an Instagram account, too. That was my best spot for Lego. I posted an Instagram photo of a Lego skittles vending machine I created, and I was surprised when some of the competitors in Lego Masters Australia liked it. It was good doing Lego on Instagram and it made me feel good.
I learned cooking by looking at a recipe that I found in a book about World War II. I made a "make do cake," which is a cake without eggs and milk, because those were rationed during WWII and not always available, but sometimes you wanted a cake even if you didn't have eggs or milk. You could say that is hard because the eggs and milk are important parts of a cake. I used oil and baking powder instead. This also made the cake vegan.
I made some other stuff too. Like Lemon-Rosemary Chicken and Potatoes in foil packs, and Bacon-Egg-Bagel Casserole.